Christmas Ornaments for the Gardener You Know
If you love gardening then why not show off your hobby on your Christmas tree? Hanging one of these beautiful gardening Christmas ornaments will let everyone know how you enjoy spending your weekends.
Green Thumb Gardening Ornaments
Gardening Christmas ornaments also make great gift ideas for the gardeners in your life. I know a number of people that would love to receive one of these ornaments as a gift and who knows you may be rewarded with some free vegetables – win/win 🙂
I was amazed at how many really great gardening Chistmas ornaments were available online and although my gardening has taken a backseat since discovering snakes in the garden – the whole thing is more stress inducing than stress releasing these days – I would still love to hang one of these ornaments on our tree.
My father-in-law was a great gardener and used to give us lots of vegetables from his ample veggie garden….after I mentioned liking radishes in conversation one day he went out and planted a row of radishes 🙂 Wow, I'd just thought about that as I was typing so I definitely think we need to put a gardening ornament on our Christmas tree in his memory.
Gardening Ornaments for Your Christmas Tree
 Ornaments to Remember: GARDEN TOTE Christmas Ornament Lang & Wise Ornaments–Susan Winget~Gardening Angel Bell Glassworks Gardening Santa Ornament Hand Painted Mouthblown Glass Christmas Ornaments With Gardening Themes, in Red Boots Gardening Christmas Ornament Set of 3 Noble Gems Glass Wheelbarrow Ornament, 4-Inch
A Cool Gardening Christmas Ornament
I love this Christmas ornament – a snowman watering a Christmas tree – you really can't get much more Christmas than that……unless you had Santa watering the tree that is!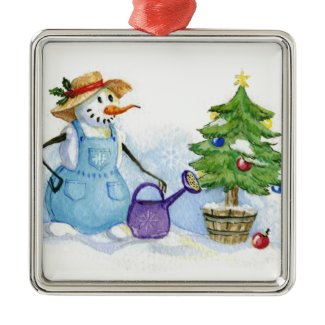 Snowman-gardener Christmas Tree Ornament by IronicOwl
Hallmark Gardening Christmas Ornament
A Very Cute Gardener!
I have seen a few different animals in my garden….especially since I moved to Australia, but I've never seen an elephant in a garden especially not such a cute one as this 1993 Hallmark gardening Christmas ornament represents.

Hallmark Big on Gardening 1993 Keepsake Ornament
I think Hallmark have really outdone themselves with this cute ornament although it's not the only animal inspired gardening ornament that they have come out with over the years.
I have also seen a mouse inside a gardening glove which is cute, but you don't want mice in the garden or on the tree do you?
I'll leave you with one more ornament that says it all really –
Keep Calm and Garden on Christmas Ornament
Note: The author may receive a commission from purchases made using links found in this article – more information can be found on our disclosure page.