Mark Special Occasions with a Christmas Ornament for Your Family's Tree
Show off a touch of your family's history with your Christmas tree each year. Celebrating important events is a great reason to get an appropriate Christmas ornament such as your first Christmas, your first home, your children's first Christmas etc.
Then there are other things to celebrate – your new job, your latest hobby, a family holiday the list keeps continuing.
The tradition of decorating your Christmas tree will really become a treasure trove of quality family time as you retell memories.
Our First Christmas Together Ornaments
Just Married Christmas Ornaments
If you're looking for a unique wedding gift idea then a Christmas ornament is a great idea and not just for winter weddings either. Every Christmas when it comes time to dress the tree hopefully the ornament you gave them will make them reminise about their special day.
If you aren't lucky enough to be brought a Just Married Christmas ornament as a wedding gift then be sure to buy yourself one to celebrate your first Christmas as Mr and Mrs.
Just Married Wedding Car Ornament
Just Married Ornament
Just Married Wedding Ornament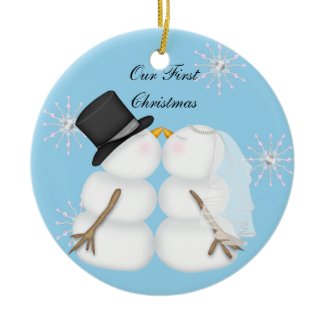 Kissing Snowmen Christmas Ornament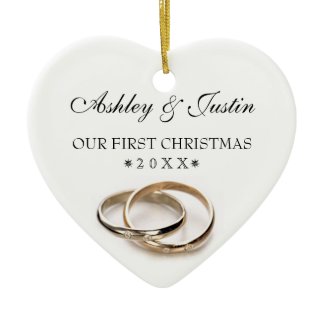 Wedding Rings Christmas Ornament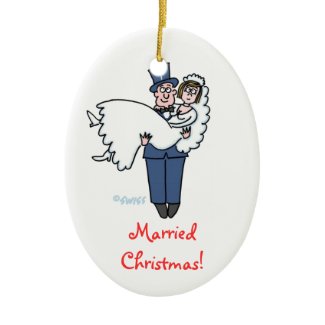 Newlyweds Christmas Ornament
Of course with more and more people living together before getting married you might want to look at this style of first Christmas together ornaments.
Our 1st Christmas Snow Globe Ornament
Our First Christmas Together Ornament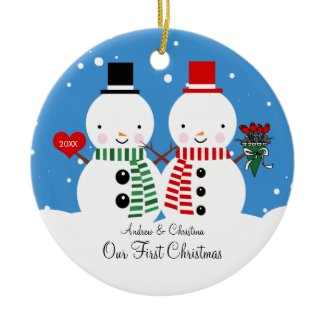 Snowman Couple Our First Christmas Ornament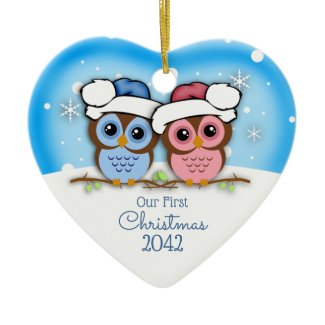 Cutie Owl Couple First Christmas Ornament
Love Birds Our First Christmas Ornament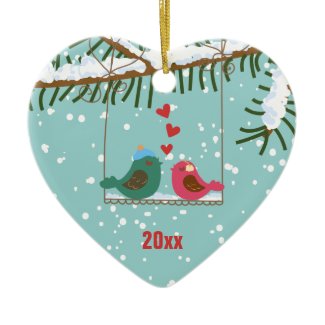 Our First Christmas Love Birds Ornament
Maybe it's the first Christmas you've spent together as an engaged couple? If so then you'll love these Christmas tree ornaments.
Just Engaged Glass Ornament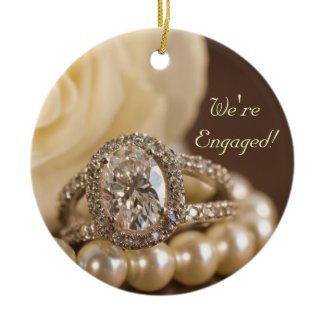 Diamond Engagement Ring Ornament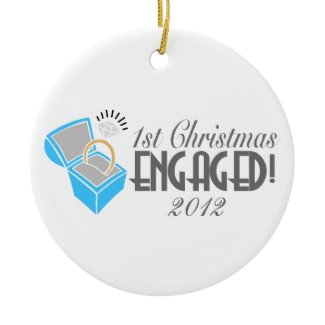 1st Christmas Engaged Ornament
Our First House Christmas Ornament
Buying your first house together is a very special time and one that should definitely be celebrated. This house is going to become a home to lots of memories as you enjoy your partnership, family….whatever your future holds.
Most importantly this house will be home to your Christmas tree and so deserves a special ornament to hang on it.
Hallmark 2012 New Home Keepsake Ornament
Our First Home Christmas Ornament
Our First Christmas Together in New Home Ornament
These Christmas ornaments also make a great housewarming gift idea. I really wish I'd known these ornaments existed back when my husband and I brought our very first house because we moved in to it in December so it would've been even more special.
Our Pet's First Christmas Ornaments
Pet Animal Christmas Tree Ornaments
If you get a new pet whether it's your first, second, third etc then you should definitely get their own ornament for on your family Christmas tree.
 Custom Pet Photo Christmas Ornament Add pet photo/person Christmas Tree Ornament Personalized Pet Photo Christmas Tree Ornament
Our First Baby Christmas Ornaments
Baby's First Ornament
The first baby is always a huge deal so again you should celebrate it in style with a Christmas ornament.
No matter how many children you have making sure they each have a baby's 1st Christmas ornament is a great idea and they'll love hanging that ornament on the tree for years to come.
Baby's First Christmas Ornaments
Celebrating the arrival of a baby with their own special Christmas ornament is a very special thing which is why Baby's First Christmas ornaments are so popular with families.
In fact having children leaves you with a great way of re-telling the story of their life every year on the tree and starting your own family tradition.
Start a Family Christmas Tradition with Your Children
Christmas Ornaments for Kids
Buy your children a Christmas ornament every year that celebrates whatever their favorite thing is at the time for example this year has seen my tween absolutely enarmored with a certain big boy band which means I'll be getting her a One Direction Christmas ornament. It gets quite funy to see Dora the Explorer alongside One Direction, Dance, Basketball and Guitar Ornaments, but it tells the story of her interests through the years.
Note: The author may receive a commission from purchases made using links found in this article – more information can be found on our disclosure page.