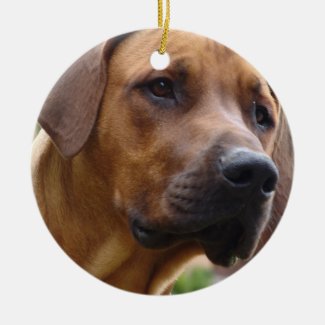 Rhodesian Ridgeback OrnamentCheck Price
Rhodesian Ridgeback ornaments are gorgeous at any time of the year, but one's which you can hang on your Christmas tree are just the best.
My eldest dog at the moment is a Rhodesian Ridgeback cross so hanging a Rhodesian Ridgeback Christmas ornament on our tree sounds like a great idea to me.
Our old lady was born in 1998, but still acts like a puppy now and again and if you give her a Christmas present she'll open it faster than a nine year old can rip open theirs! Well if it contains a treat that is, I must try and wrap up a new brush for her and see if she still gets as excited!
The ornament above is my favorite Rhodesian Ridgeback ornament and the fact that it's not Christmassy means that you could hang it up any time of the year.   Why is it my favorite?   Because my beautiful Kahlua could've been the model for it!
More Rhodesian Ridgeback Ornaments
These gorgeous Rhodesian Ridgeback Christmas ornaments aren't too Christmassy so you could hang them up all year around if you wanted to. I'm actually thinking of adding some to our four-legged family members photo collage in the dining room.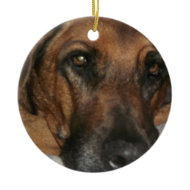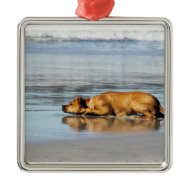 If you own your own Ridgeback you could even upload their photo to Zazzle and make a really personal Christmas ornament for your tree – this is what my daughter wants to do with all of our dogs 🙂
Gorgeous Rhodesian Ridgeback Christmas Ornaments
These Christmas themed Rhodesian Ridgeback Christmas ornaments are also gorgeous and would look wonderful on anyone's tree. They also make a great gift idea for any Ridgeback owner.
 Even More Ridgeback Ornaments!
I'm sure there's lots and lots of people who love ridgebacks, after all they're able to keep a lion at bay and yet they are also very affectionate and loyal when it comes to their family.   So here's even more Rhodesian Ridgeback Christmas ornaments to choose from –
Rhodesian Ridgeback Green Gift Box Dog Ornament Rhodesian Ridgeback Christmas Oval Ornament Rhodesian Ridgeback Gingerbread House Christmas Ornament Christmas Ornament: Rhodesian Ridgeback Solid Pewter Christmas Ornament – I Love My Rhodesian Ridgeback – Silver Rhodesian Ridgeback Porcelain Holiday Ornament Pet Set Blown Glass European Dog Ornament -Rhodesian Ridgeback Rhodesian Ridgeback Bone Ornament Rhodesian Ridgeback Miniature Dog Ornament
Note: The author may receive a commission from purchases made using links found in this article – more information can be found on our disclosure page.