What would Christmas be without images of Frosty the Snowman around?   Even though I currently spend Christmas in warm weather snowmen still abound in Christmas imagery, so why not pop some on your Christmas tree?
I love the idea of having a Christmas tree ladened with Snowmen as I grew up spending my Christmases in winter time and the idea of bringing a touch of winter to my 'summer' Christmas makes me feel quite nostalgic.
There are some awesome snowflake Christmas ornaments that can be added too, but there's something really cute about snowmen so let's look at a couple of cool snowman Christmas ornaments –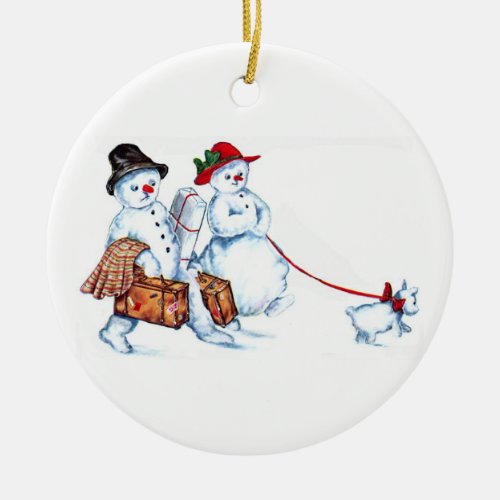 Snowman Couple Christmas Ornament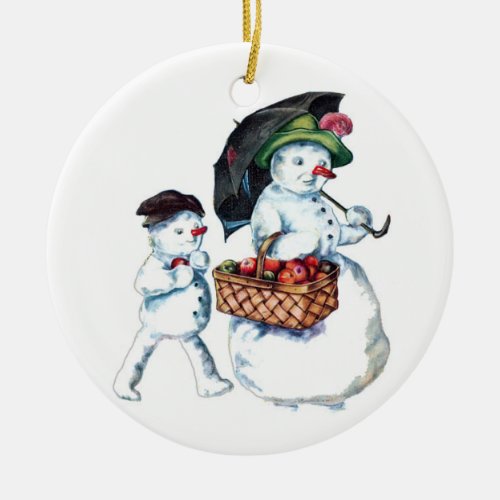 Snowman Mum & Son Christmas Ornament

&
These two Christmas ornaments show some cute images – a couple with their dog and a mother and son – why snowmen are just like us!
If you like the look of the Zazzle ceramic ornaments then check out this selection of winter Snowman Christmas ornaments –
Of course there are many more snowman Christmas ornaments to choose from like this selection –
 Old World Christmas Happy Snowman Glass Blown Ornament Snowman Family of 4 Personalized Christmas Holiday ornament Frosty Fun 2016 Christmas Ornament Hallmark Ornament Precious Moments, Christmas Gifts, Snowman Ornament
&
You must have fallen in love with at least one of these snowmen, haven't you?   Whether you're adorning your tree from head to toe in snowmen or you just want to add one or two I'm sure either of these would put a smile on anyone's face this holiday season.
Note: The author may receive a commission from purchases made using links found in this article – more information can be found on our disclosure page.