Have a Musical Christmas with some Musical Instrument Christmas Ornaments!
It's fun to have a Christmas tree that looks a little different to your friends and neighbors one. One way of doing this is by personalizing your tree with special Christmas ornaments. If you're a musician then a musical instrument Christmas ornament is exactly what you should have on your Christmas tree.
My daughter absolutely loves music – she sings, dances and plays guitar. She also loves to write her own songs, it's like having my very own Taylor Swift in the house! A guitar Christmas ornament is something I've been meaning to add to the tree, although she's also been looking at playing a different instrument in the school bank so we may have to get yet another instrument to hang on the tree as well!
Christmas ornaments aren't just to put on your tree they also make fantastic gifts so if you know someone who's into their music why not buy them a musical instrument Christmas decoration? I think that music teachers would love to receive a cool little ornament for their tree as well.
Whatever type of musical instrument you like to listen to or even play from strings to woodwind, brass to percussion there's a Christmas ornament to match and I personally think there would be nothing cooler than a totally musically themed Christmas tree. If you don't want to go quite that far then simply pick one or two instruments that have specific appeal to you and hang them on the family tree this year.
String Instrument Christmas Ornaments
Musical Instrument Christmas Ornaments
Whether the person in your household plays the violin or the harp there's a string musical instrument Christmas ornament just for them.
Banjo Christmas Ornaments
I do enjoy listening to banjo music, but I don't actually know anyone personally who plays the banjo which is a shame because I love the last round ornament featured in this selection and I think it would make a great gift to any banjo player.
Bass Christmas Ornaments
Cello Christmas Ornaments
Miniature Cello Christmas Ornament
I first 'discovered' the cello when I was a teen and I used to watch the television series of Fame and Lori Singer starred in it playing – you guessed it a cellist. The cool thing that I remember is that she was actually an accomplished cellist before landing the role of Julie.
Anyway enough of the trip down my memory lane! I hope you like the cello ornaments I found for you.
Guitar Christmas Ornaments
String Musical Instrument Christmas Ornaments
I've put the guitars first because I've been looking at them personally trying to decide which one will be best. Of course if you can't decide on a single guitar you could always have a collection……. and you'll find single guitar ornaments as well as sets of ornaments at the great page below –
Harp Christmas Ornaments
Harps are the musical instruments of choice for angels which means that whether you play them or not these ornaments are made to be placed on Christmas trees in households around the world!
Mandolin Christmas Ornaments
Violin Christmas Ornaments
I think that the violin is the one instrument I wouldn't like my daughter to learn to play and luckily she hasn't shown an interest in it so we don't have to add any of these ornaments to our tree. A beautifully played piece of violin music is absolutely lovely, but unfortunately I used to live next door to a child learning to play the violin and I can't stand that screechy sound that seems to be all part of the learning curve!

Kurt Adler 5.5
This Christmas ornament looks great on the Christmas tree and is an ideal gift for any violinist that you know. It measures approximately 5.5″.
You may prefer one of these other violin Christmas ornaments and if that's the case you can find out more information by clicking on the appropriate musical instrument Christmas ornament.
Brass Musical Instruments Christmas Ornaments
The Brass section of the orchestra that is! We have trumpets, French horns, saxophones, trombones and more. These musical instrument Christmas ornaments are really going to make your Christmas tree rock this year.
Baritone Horn Christmas Ornament
Music Treasures Co. Baritone Horn Christmas Ornament
French Horn Christmas Ornaments
I absolutely love the first French Horn ornament I've featured here, it adds a touch of fun which is what Christmas is in our household. Of course, if you prefer a more realistic French Horn ornament I've added those for you as well.
Saxophone Christmas Ornaments
Miniature Saxophone Christmas Ornament 3.25
I absolutely love listening to the saxophone and I must admit that I really liked the sax solos that were in some of the iconic 80s songs as well (my daughter does groan and say I'm stuck in the 80s when it comes to music, but really…..) songs such as True, Careless Whisper, Smooth Operator, If You Leave and many more totally sold me on this instrument.
Sousaphone Christmas Ornament
Brass Sousaphone by Broadway Gifts
Trombone Christmas Ornaments
When I was at school I really wanted to play the trombone in the band as I thought it looked pretty cool, unfortunately I couldn't make a single note when I breathed into it so the place went to someone else and I refused to consider another instrument ……… school band and I were obviously not to be!
Trumpet Christmas Ornaments
Brass Trumpet by Broadway Gifts
Tuba Christmas Ornaments
3.5
Woodwind Musical Instruments Christmas Ornaments
Bassoon Christmas Ornaments
6.25
Clarinet Christmas Ornaments
Black Clarinet by Broadway Gifts
Lots of people seem to choose the clarinet as their instrument of choice when they're at school (or at least it seems that way to me) which means that there's a lot of people who you could buy a clarinet ornament for.
Flute Christmas Ornaments
As far as woodwind instruments go the flute is by far my favorite and I really regret that I never learned to play it. Flute music is really uplifting and I must say it evokes images of open meadows or clearings in woodland during medieval times – images taken from a combination of history books and old movies!

Miniature Flute Christmas Ornament 3
Back in the present day any flutist is sure to appreciate having one of these ornaments to hang on their Christmas tree to celebrate the holidays – why they might even be persuaded to play a little tune for you as you all gather together to celebrate the season.
Percussion Musical Instruments Christmas Ornaments
Drum Christmas Ornaments
Out of all of the musical instruments the drums are seen on the most Christmas trees along with the little drummer boy. Here are just a couple for you in case you have a drummer in the family.
Click on the drum Christmas ornament that you like to see a larger image and/or product details.
More Drum Christmas Ornaments
Not only can you get an ornament featuring the little drummer boy himself, you could also get one which shows Santa rocking out on the drums! I'm no drummer, but I think a drumming Santa looks pretty cool myself!
I do love the fact that you can also get more specialist drum ornaments as well such as the kettle drum or the snare drum.
Tambourine Christmas Ornaments
Tambourines always makes me think of 60s hippies or the Hare Krishnas! They are however used really well in bands and I was very impressed with the tambourine players in my daughter's school band a couple of years ago – I never realized quite how cool a sound a tambourine can make when it's done en masse!

Music Treasures Co. Red Tambourine Christmas Ornament
If you know a tambourine player then show them you think it's a cool instrument by hanging one of these ornaments on your tree. Not only does it look good, you can also make a sound with it, probably nowhere near the sound of a 'real' one though!
Triangle Christmas Ornament
Who here hasn't had to play the triangle at least once in school? Personally I hated having to play the triangle, but if you know someone who loves this instrument …. and I know such people exist …. then why not check out this ornament –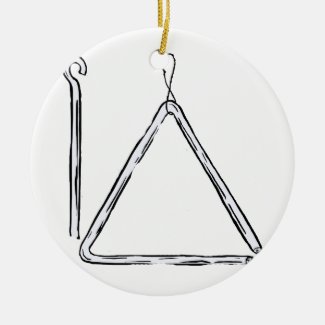 Triangle And Beater Graphic Black and White Christmas Tree Ornament by MusicianEvents
I'm not sure why I hated playing it, possibly because you never saw any pop idol or rock star playing the triangle!!
Piano Christmas Ornaments
I love listening to the piano, I really wish I could play it myself. A piano musical instrument Christmas ornament would be really great on anyone's tree whether they play or just like to listen to 'the piano man'.
There's quite a selection of this decorations available which is great as you could get a different one each year for your piano teacher as a gift that is sure to be treasured.
Click on the images for a larger picture.
But wait there's more…
What about a musical clef?
My daughter saw a musical clef Christmas ornament on Amazon and has been asking for it, it's suitable for any music lovers – people who sing, dance or even play a musical instrument. I think this might even make it's way into someone's Christmas stocking this year, but don't tell her (it's a secret!).

Silver Glitter Music Note Ornament Set Of 3 Assorted
This set of musical Christmas ornaments includes not just the musical clef but also a couple of notes which I know my daughter will love and I'm pretty sure any music students, lovers or teachers would enjoy as well.
It really is a gorgeous way to add a little music influence onto your family tree.
Note: The author may receive a commission from purchases made using links found in this article – more information can be found on our disclosure page.